Extremely versatile 2-channel acoustic instrument amplifier
Powerful 20-Watt, 8' dual-cone speaker for wide frequency response
Additional microphone input with separate volume control
VTC Virtual Tube Circuitry for tube-like sound
CD input allows you to play along to your favorite music
The AT108 is the guitar amp that puts vintage tone and character in a light, portable package. It's a beautiful-sounding amp for beginners in their bedrooms as well as seasoned performers who need a discreet sidekick for their next gig.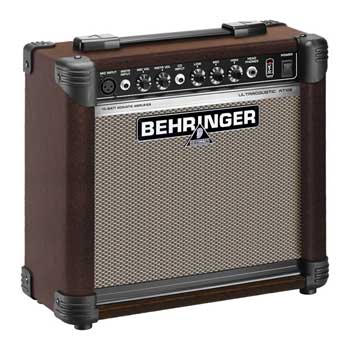 Vintage tone and character in a light, portable package.

Built-in mic input for vocal accompaniment.

1/4-channel input for playing along with your favorite songs.
Where Are the Tubes?
Ask any guitarist what they want most from an amp and they'll answer with a single word--TONE. That quest for tone drove us to develop our amplifiers. Behringer's proprietary VTC (Virtual Tube Circuitry) gives the AT108 its in-your-face tube amp tone. It's an amp with such rich, harmonic character and buttery tube-like goodness, you'll wonder where we hid the tubes.
Classic Control
This 15-Watt guitar amp is a singer/songwriter's dream come true. The AT108 features an instrument input as well as a mic input, both with their own volume control. Just plug in a dynamic mic and an acoustic guitar, and you're ready to rock the coffee shop. A three-band EQ gives you precise tone-shaping capabilities.
A Little Privacy
If you're not yet ready for primetime, or just need to hold a low-key rehearsal, the AT108 features a 1 /4" input for playing along with your favorite songs, and a headphone input for private jamming.
Built to Last
The AT108's electronic components are built into a robust metal enclosure for maximum protection. The cabinet is made of high-grade wood covered with durable vinyl.
What's in the Box
Behringer AT108 15-Watt Acoustic Amplifier, User's Manual
Need a Instrument Cable Too? Send us an email!